CMCF Announces Historic Training Partnership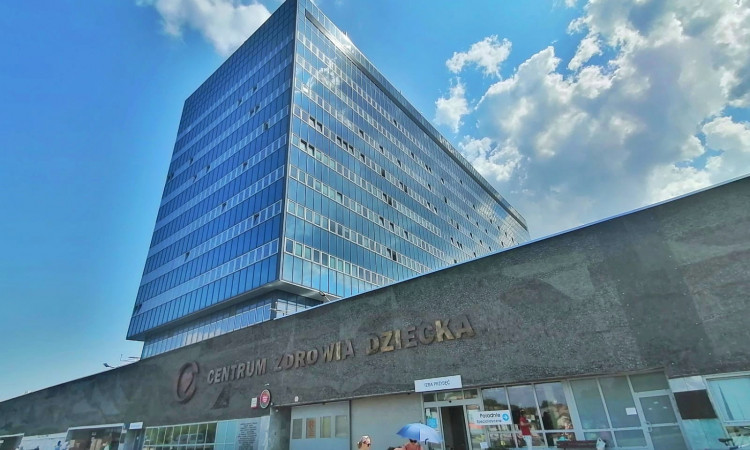 The President and Vice President of the Children's Medical Care Foundation met recently with the Marek Migdal, MD, PhD, Director of the Children's Memorial Health Institute, one of Europe's largest pediatric hospitals, to discuss a new form of training collaboration which would see CMCF coordinating group supplemental specialized medical trainings at the facility's vast medical campus in Warsaw, Poland.
The institute, also known as Instytut Pomnik Centrum Zdrowia Dziecka, or IPCZD, serves as both a scientific institute and a highly specialized children's hospital treating children from throughout the country, as well as a large number of pediatric oncology patients currently being transferred there from Ukraine.
Among the many specialties for which IPCZD is renowned is organ transplantation. Its transplantation center is one of the largest in the world and has conducted many pioneering surgeries dating back to 1990 when it conducted the first liver transplant in Poland. Since then its physicians have also performed Poland's first combined kidney and liver transplant, its first simultaneous transplant of the liver, small intestine, duodenum and pancreas and its first intestine transplant.
The training relationship between these two entities dates back to the foundation's earliest days, when CMCF arranged for a fellowship at the UCLA School of Medicine for one of IPCZD's pediatric surgeons and the co-founder of the foundation, itself, Prof. Zygmunt Kalicinski. Since that time, seventeen other IPCZD physicians have benefited from similar such observership trainings at leading American medical institutions, including Harvard Medical School, Columbia University Medical Center, the University of Nebraska Medical Center, and Boston Children's Hospital. 
In fact, one of those pioneering fellowship recipients, the son of Zygmunt, Prof. Piotr Kalicinski, went on to establish and now head IPCZD's transplantation center. Prof. Kalicinski has distinguished himself as one of the world's leading pediatric transplant surgeons.
Particularly important to the training partnership is IPCZD's state-of-the-art surgery simulation center where trainees can practice on special medical mannequins.  
Whereas the model in the foundation's early years was to arrange for individual physicians to travel to often quite distant medical centers for stays of six weeks and longer, this new training partnership will involve entire medical teams for briefer periods of time. 
Along with being much more cost effective, this approach holds the potential to enable much more rapid improvements to health care standards and hospital treatment capacity, as every member of a visiting department's treatment team will be able to observe how the host medical department, selected for its efficiency, manages patient flow and conducts caregiving operations.
CMCF Vice President Jolanta Martinoff Renews Memorandum of Understanding
On October 21, 2021, in Kiev, Ukraine, Jolanta Martinoff, CMCF Vice President, signed an updated Memorandum of Understanding with Viktor Liashko, Ukrainian Minister of Health, renewing both parties' commitment to improving the quality of newborn care.
This agreement builds on the longstanding partnership of the two parties and further clarifies the roles of each moving forward.
In particular, the memorandum provides for:
development of a family-centered approach of neonatal care in Ukraine
learning the world experience of providing assistance to prematurely born children and children with acquired or congenital surgical and somatic pathology
improving the legal field in the field of neonatology and child surgery
neonatological service development
implementation of international forms of analytical reporting and statistics
holding compatible meetings on perinatal aid policy
involvement of leading industry specialists, in holding conferences, seminars and trainings for doctors
organization of team training staff and ensuring effective communication
Below are images of the historic agreement itself, along with photos of its signatories; CMCF Vice President Jolanta Martinoff, and Viktor Liashko, Ukrainian Minister of Health as well as Rostyslav Tistyk, deputy of the Verkhovna Rada.
Human Milk Banking in Poland
On October 14, 2021, CMCF Vice President, Jolanta Martinoff was invited to take part in the 6th International Congress of the European Milk Bank Association.
CMCF wishes to express its sincere gratitude to Aleksandra Wesolowska, President of the Milk Bank Foundation of Poland and Associate Professor at the Laboratory of Human Milk and Lactation Research on Regional Milk Bank in Warsaw, Medical University of Warsaw, Warsaw, Poland for the invitation to participate and for her leadership in this area.
Below is an in depth interview of Assoc. Prof. Wesolowska which appeared in Miris Interviews.
CMCF Sponsors Conference on Multidisciplinary Perinatology, Neonatology and Pediatrics
Along with scientific lectures on the efficacy of a variety of medical treatment techniques, this conference will address non-clinical aspects of neonatal caregiving and feature speakers with expertise in a range of psychological, legal and ethical issues involved in neonatal caregiving-including those affecting givers of care.
The rights of children, evaluation and alleviation of maternal stress in the NICU environment, postpartum anxiety and depression and its effect on child development, identifying and preventing burnout among hospital staff are just some of the issues that will be discussed at this multidimensional conference. There will even be a discussion on the topic of neonatal training, itself.
This is the first conference to receive foundation support for which it is our Ukrainian partners who have played the lead organizing role, and we are particularly grateful to its Chairperson, Prof. Maria Kiselova, Director of the Department of Pediatrics and Neonatology of the Danylo Halytsky Lviv National Medical University and President of the Lviv Association of Neonatologists. We hope that it marks the beginning of an annual tradition.
The first day of conference presentations can be viewed in their entirety here. Day two's proceedings can be viewed here.
Donated Medical Equipment Cleared for Official Use in Ukraine
Children's Medical Care Foundation is proud to announce that at long last, 54 pieces of advanced medical equipment it was able to secure the donation of from Polish pediatric hospitals in 2018, have finally been cleared for official use at pediatric medical centers throughout Ukraine.
Obtaining licensing to enable official use of this equipment, which included orthopedic beds, anesthesia machines, bactericidal and manipulation lamps, a trolley, a laboratory dryer, a respirator, an electromyography device, closed incubators, and resuscitation tables for newborns-the crucial final step in this multi-stage humanitarian aid shipment process-proved more challenging than initially envisioned, and would likely not have been possible without the help of a number of key allies-a few of whom we didn't know we had-throughout government and the medical establishment.
Among those who deserve special thanks are Rostyslav Tistyk, deputy of the Verkhovna Rada, Orest Chemerys, Director of the Health Department of the Lviv Regional State Administration as well as the Health Department of the Lviv City Council.
And as with all foundation initiatives and efforts in Ukraine, we are extremely grateful for the ongoing support of the Ministry of Health of Ukraine.
We are pleased to also report that as word of the successful donation continues to spread throughout the pediatric medical community in Poland, several medical institutions have begun to approach our foundation to inquire about future participation, which warms our hearts and reaffirms our commitment. We look forward to facilitating future such donations.
Please direct all shipment-related inquiries to Jolanta Martinoff, foundation Vice President, at jolanta@cmcf.org.
CMCF Facilitates Donation & Transfer of Medical Equipment From Polish Hospitals to Ukrainian Pediatric Medical Centers
By stepping outside of its fellowship-granting comfort zone, CMCF was able to reach an exciting new milestone in its evolving history of efforts to elevate neonatal and pediatric care standards this week with the successful transfer $3,500,000.00 USD of unused medical equipment from children's hospitals throughout Poland to their counterparts throughout Ukraine.
The gifting of these otherwise idle ventilators, infusion pumps, neonatal respirators, incubators, monitors, orthopedic baby beds, anesthesia devices, bacteriological lamps, laboratory equipment, a resuscitation station and a transdermal bilirubin measurement device was the brainchild of CMCF Vice President-and former nurse-Jolanta Martinoff, and would not have been possible without the expertise and accumulated goodwill of Prof.-and longtime CMCF Board Member-Maria Katarzyna Borszewska-Kornacka and the persistence of CMCF's Country Managing Director for Ukraine, Dr. Zoryana Ivanyuk.
More about the particulars of which Polish hospitals participated and what items were donated can be found in these two recent articles. The broad outlines of this groundbreaking act of international cooperation are these:
In accordance with a Memorandum of Understanding signed between the Children's Medical Care Foundation and the Ministry of Health of Ukraine in 2017, site visits of 10 neonatal and pediatric medical centers throughout Ukraine were conducted by representatives of CMCF to asses their adequacy to serve as hosts for a series of pilot neonatal medical trainings the foundation had been conceptualizing.
During these visits, conducted by Prof. Borszewska-Kornacka, and Jolanta Martinoff, it was discovered that a number of these hospitals were in shockingly short supply of even the most basic medical equipment. 
An idea occurred to Mrs. Martinoff-what if surplus medical equipment from partner institutions in Poland, much of it collecting dust in hospital basements, could be transferred to these institutions which were in such need of it.
Mrs. Martinoff convinced Prof. Borszewska-Kornacka to approach the director of the hospital whose neonatal intensive care unit she once headed to ask if he might consider such an equipment transfer, which, to her delight, he was willing to assent to. But that was just the beginning.
CMCF initiated contact with the Ministries of Health of Poland and Ukraine to obtain formal governmental permission for donation, and acceptance of the equipment. This involved multiple politically sensitive communiques back and forth-and re-starts through a transition of Ministry heads.
CMCF hired a private shipping company, and then another as the first fell through, and finally a third who did not shy away from the task. 
In addition to the obvious benefits to patient care Ukrainian hospitals having such modern equipment affords, it also expands the geographic reach of group trainings-an increasing organizational emphasis favored for its potential to more quickly disseminate modern medical knowledge-and at a fraction of the cost-of individual observerships.
If you are aware-or have medical colleagues in Poland who you think might be-of surpluses of functioning medical equipment not currently in use by the hospitals at which you or they practice, you are strongly encouraged to contact CMCF president, Bjoern Martinoff, at bjoern@cmcf.org.
In Memoriam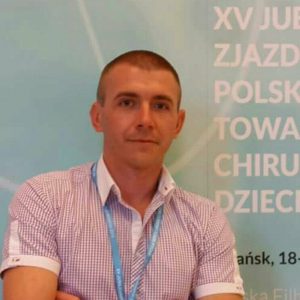 Dr. Marian Zakharus
1980-2020
On March 9th, 2020, the Children's Medical Care Foundation family lost a talented, ambitious exemplar of what it means to selflessly devote oneself to the care of children. Dr. Marian Zakharus, a pediatric surgeon at Danylo Halytsky Lviv National Medical University, a rising star in the field of pediatric surgery in Ukraine and an even more extraordinary humanitarian, passed away suddenly at the age of 40.
The enormity of the loss of Dr. Zakharus' passing, both to the immediate care of children in the Lviv region of Ukraine, as well as to the broader effort to elevate standards of pediatric care throughout the country, is difficult to overstate. Though barely into his fortieth year at the time of his death, he was already a highly respected surgeon, known for his thoroughness, stamina, discipline, work ethic and extraordinary capacity for gentleness and compassion with patients and emotional supportiveness of colleagues.
Dr. Zakharus first became affiliated with the Children's Medical Care Foundation when he applied for and was granted an observership at the Department of Pediatric Surgery at the Upper Silesian Child Health Center, Katowice, Poland, under the guidance of Prof. Janusz Bohosiewicz. He would later acquire further CMCF-sponsored training at the Department of Pediatric Surgery and Urology at the University of Medicine, Wroclaw, Poland, under the guidance of Prof. Dariusz Patkowski.
Dr. Zakharus was also selected to participate in a two-day training at the Aesculap Academy in Nowy Tomysl, Poland, on minimally invasive surgical techniques with two of Europe's leading practitioners and former CMCF Fellows, Professors Piotr Czauderna and Dariusz Patkowski, head of Pediatric Surgery and Urology Department Wroclaw University of Medicine and head of the Department of Surgery and Urology for Children and Adolescents of the Medical University of Gdańsk, respectively.
Dr. Zakharus was beginning to distinguish himself as one of the leading practitioners in Ukraine of minimally invasive surgical techniques such as laparoscopy for the treatment of oncological diseases, and for the application of those techniques for the treatment of patients with congenital and acute abdominal pathologies.
Marian took great pride in his affiliation with CMCF, and it is difficult to imagine a better ambassador for the foundation's mission of generously sharing the latest of what is known in pursuit of ever better pediatric care standards. When members of CMCF's US-based Board of Directors came to Ukraine, it was Dr. Zakharus who would greet them at the airport and assist them during their stays by personally driving them to important meetings. Stories abound of this kind of selfless volunteerism.
As impressive as his technical mastery in the operating theater was the personal effect he had on his patients. One colleague recalled how he would often have gifts or a joke for his young patients and that upon the recovery of one child from a particularly dire medical condition that Dr. Zakharus had treated him for, the parents asked Dr. Zakharus if he would be the child's Godfather. Dr. Zakharus made it a tradition to visit the family in their distant village on the child's birthday every year since. Another colleague, a neonatologist who had known and worked with him since medical school, said that he was adored by staff and patients alike and described him as "a great friend, the perfect surgeon, an amazing man, a loving son, just an awesome person".
Though he was tragically taken too early, his legacy will live on and the standards he helped set will hopefully inspire those who come after. May he rest in peace.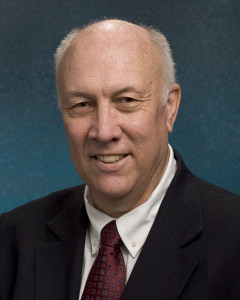 Children's Medical Care Foundation
Professor Michael P. Sherman
Doctor Honoris Causa
On November 18th, 2015, at the University of Medical Sciences in Poznan, world-renowned neonatologist and 29-year Children's Medical Care Foundation (CMCF) Board Member, Professor Michael P. Sherman, was awarded the distinction of Doctor Honoris Causa by University Rector Hyacinth Wysocki.  More than 170 distinguished guests attended the ceremony, including the heads of most major Polish medical universities, colleagues and former fellows, many of whom now head Polish medical societies, and major medical departments.
Professor Sherman received the Doctor Honoris Causa award for his nearly three decades of dedication to the cause of improving infant and child care in Poland. He first joined CMCF's Board of Directors in 1986 at a time when the infant mortality rate in Poland stood at a staggering 26 deaths per 1,000 live births, and neonatology was not yet a recognized medical specialty.
Later that year, Professor Sherman began the task of changing that when, in partnership with two Polish physicians, Professors Irena Twarowska and Janusz Gadzinowski, he organized the first ever Polish-American Neonatology Symposium at the Poznan University of Medical Sciences.
It's easy to forget, but a big part of why Poland's health care lagged so far behind United States was that it was just beginning to emerge from decades behind the Iron Curtain, where international information sharing, such an essential part of modern medicine, was virtually non-existent.
Professor Sherman was the first to open his medical department to CMCF-sponsored Polish Neonatology Fellows that same year, as an attending physician at UCLA's world-leading Neonatal Intensive Care Unit, paving the way for many to follow.
With well over 100 published research studies to his credit, Professor Sherman is also one of the world's foremost neonatology researchers, and an in-demand speaker at medical conferences and symposia worldwide.
Professor Sherman has shared his passion for research generously with an entire generation of Polish physicians, mentoring them through every step of the process, helping them not only to design their studies, but to write up the research results in a way that would pass muster with review boards-several of which he has served on over the years. Today, it is not uncommon to find pioneering research conducted by his former fellows in the most prestigious international medical journals.
CMCF's long term objective has been to build international medical bridges, and one could hardly ask for a better ambassador than Professor Sherman. The partnerships he has made over the decades with Polish physicians have turned into lifelong friendships.
As recently as his acceptance speech, in which he described the honorary doctorate as "the distinction of a lifetime", and which he accepted on all of our behalf, he rededicated himself to our CMCF shared mission.
Thanks to Professor Sherman's many collaborators including doctors, researchers, donors and families a low birth weight child in Poland has just as good of a chance of living a normal life as an American one does.
The photographs below represent the formal ceremony and the published book detailing all of Professor Sherman's publications and accomplishments.
The Board of Directors with gratitude thanks Dr. Michael P. Sherman for all he has done and congratulates him for receiving the Doctor Honoris Causa.
Click here for larger text and images.
Bjoern Martinoff, President of Children's Medical Care Foundation, Receives Order of Merit of the Republic of Poland
Bjoern Martinoff, long-time president of the Children's Medical Care Foundation, (CMCF) a Los Angeles-based nonprofit organization that works to improve neonatal health care around the world, was awarded the Order of Merit of the Republic of Poland in a ceremony held at the Royal Castle in Warsaw on October 23th, 2014.
Bestowed by the President of Poland, Bronislaw Komorowski, and presented by the Ambassador of Poland to France, Tomasz Orlowski, the the Order of Merit of the Republic of Poland is the highest of all civilian honors, and recognizes contribution to international cooperation or cooperation between Poland and other countries.  The honor recognized Mr. Martinoff's three decades of dedication to the cause of improving Polish pediatric care-nearly two decades of which at the helm of the organization.

CMCF Partners to Help Take Lviv City Children's Clinical Hospital to the Next Level
Children's Medical Care Foundation has partnered with the California Association to Aid Ukraine to raise funds to support the realization of the first "Pediatric Emergency and Trauma Center in all of Ukraine, located at the Lviv City Children's Clinical Hospital.  
Lviv City Children's Clinical Hospital has steadily distinguished itself as a regional leader in pediatric care, and this Capital Campaign, with its preliminary budget estimate of $1.5 million, will fund renovation of four floors including associated furnishing and medical accessories.  Donated medical equipment has been secured. The first joint fundraising event is in the planning stages for early spring.
Donations are being accepted.