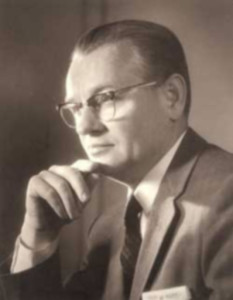 Stefan Wilk was born in 1917 near the city of Lwów in southeastern Poland. Orphaned early in life, he was raised in several foster homes and, between the years 1931-1935 he studied at the Niepokalanów Seminary, an institution founded by the legendary Father Maximilian Kolbe, who was later canonized by Pope John Paul II. Dr. Wilk eventually returned to the city of Lwów, where he worked as private tutor and self-financed his studies. He obtained his high school diploma and enrolled in the Lwów Polytechnical Institute, concentrating in mathematics and engineering, but his education was interrupted by the outbreak of World War II.
In the early months of the war, Stefan Wilk escaped from occupied Poland to Yugoslavia and with other Polish refugees, made his way to France, where he joined a Polish Army battalion attached to the French Army. Fluent in French, German and Russian, he also served as a military interpreter. When the French capitulated to Hitler's June 1940 invasion, Stefan Wilk's unit retreated to neutral Switzerland, where he was interned for the duration of the war.
The plight of Polish soldiers in Switzerland was known to Ignacy Jan Paderewski, himself a resident of Switzerland, who became a refugee in the United States in late 1940. By appealing to Henry Noble MacCracken, President of the Kosciuszko Foundation in New York, Paderewski secured funds for the 450 Polish soldiers interned in Switzerland, enabling them to continue their studies.
Along with his fellow soldiers, Stefan Wilk was able to study medicine first at the internment camp in Winterthur and later at the School of Medicine at the University of Zurich, graduating with a medical degree on January 29, 1949. Afterwards, he enrolled in an advanced degree program in the field of biochemistry, eventually receiving his diploma and further specializing in radiology at the University of Bern.
Dr. Wilk arrived in the United States in 1952. He settled in Los Angeles, where he obtained a medical license and a Radiology Board Certification. He joined the UCLA School of Medicine in 1954 as an Assistant Professor. Then, in 1959 he became Director of Radiology Department at the Queen of Angels Hospital, one of the most important teaching hospitals in the region, where he also started a School of X-Ray technology, the first of its kind in Los Angeles.
Dr. Wilk's wide-ranging education and expertise led him to initiate many programs in the various hospitals and learning institutions that he had graced with his knowledgeable presence. Author of a pioneering work in tomography and image diagnostics, Dr. Wilk also translated several key books on radiology from German into English, including The Human Spine in Health and Disease (1959) and Borderlands of the Normal and Early Pathologic in Skeletal Roentgenology (Third American Edition, 1968), the latter considered a key text in the field of radiology for several decades. Author of numerous scientific papers and articles, Dr. Wilk was widely recognized as a leading specialist in the field of radiology throughout the United States and some of his early research on tomography helped lay the groundwork for the development of CAT scan technology. During the 1970s Dr. Wilk obtained his amateur radio license and conducted some of the first transmittals of x-rays via television. Dr. Wilk was the recipient of many awards, including the 1962 Special Award from the Radiological Society of North America, the 1978 Doctor of the Year Award from the Queen of Angels Hospital, the 1983 Distinguished Service Award from Santa Marta Hospital, and the 1986 Regina Angelorum Award.
Dr. Wilk's other important contribution in the field of medicine was the creation and growth of the Children's Medical Care Foundation, which he endowed and chaired for many years since its inception in 1981. In his spirit of humanitarian endeavor, as his expression of gratitude to a legion of benefactors who gave him a hand when he needed it to acquire an education, and thus made him what he became, he founded the Children Medical Care Program in 1981 and then in 1986 he was the principal founder of the Children's Medical Care Foundation (CMCF), a California tax exempt foundation.
The CMCF mission ensures that the most advanced pediatric medical knowledge transcends borders and reaches a wide range of infants and children suffering from sickness and disease. A key objective is for all infants and children to have equal access to the best medical care available. Another objective is provide the most promising young Polish pediatric physicians with funds for a specific period of practical training at the world's leading medical schools.
From 1981 to early 2000, Dr Wilk and his wife Wanda Wilk worked with dedicated volunteers to organize fundraising events, arranging training programs and living arrangements for Polish physicians who came to the United Stated to learn the latest techniques in pediatric medicine.
Since the 1980's  the CMCF Fellows received training at such prestigious medical schools and universities in the United States such as the University of Southern California, University California Los Angeles, Harvard Medical School, and Columbia School of Medicine, as well as universities and medical schools in Paris, Frankfurt and Zurich.  CMCF has helped sustain training for pediatric hospitals in Poland.
Official Recognition
In 1990, Dr Wilk  received the Doctor Honoris Causa in Warsaw for his work with Children's Medical Care Foundation to ensure access for Polish pediatric physicians to various speciality training opportunities in US. Some of the 'First" in pediatric care included
Successful introduction of peritoneal dialysis in children
Starting renal transplants in children
Making history in Polish history with first liver transplant in 1990
Finding ways to improve critically needed medical care of newborn babies
In 1996, Dr. Wilk and Mrs Wanda Wilk received the highest non-military award, the Polonia Polonia Restituta, one of the highest honors that can be bestowed by Polish government on a civilian, soldier, or a foreigner for their exemplary charitable efforts on behalf of children's health.
In later years, Stefan and Wanda were honored jointly as husband and wife as recipients and special recognition for their charitable work in health and music. Dr Wilk received the Krzyz Komandorski ,Orderu Odrodzenia Polski  (Commander's Cross). Wanda received Krzyz Kawalerski Orderu Odrodzenia Polski. Both were signed by Lech Walesa as one of his last acts in Office. The sponsors in Poland arranged for the ceremony to take place during a ceremony at the Ministry of Foreign Affairs with guests from the medical pediatric leadership (many Polish CMCF Fellows) and many representatives from the musical world were in attendance.
"The road by which I travelled, along with the experiences I acquired, have led me to believe that the gift of obtaining knowledge is the most magnificent form of help to another human being".
Dr. Stefan Wilk passed away on March 25, 2008, his legacy lives on in the groundwork he laid.