Joint CMCF-sponsored research between between the US and Poland has primarily been spearheaded by CMCF Board member Professor Michael P. Sherman, M.D., F.A.A.P, University of Missouri, Columbia, MO, USA.  Professor Sherman is a neonatologist whose research helps diagnose, treat and prevent infections in preterm infants.  Over the past 28 years, as a research collaborator he has worked with key doctors as well as lectured at various conferences and symposia in Poland and other international meetings.
In 1986, the first Neonatal Symposium held in Poznan, was organized with the assistance of CMCF board members Professors Joan Hodgman of USC and Michael Sherman of UCLA, who were the first US Neonatologists to attend the symposium.  This first conference was the key impetus for many CMCF Fellows to establish professional relationships that still exist today and reflect the philosophy of "Building International Medical Bridges".  Professor Sherman maintains professional relationships with Professor Janusz Gadzinowski, MD, PhD, whom he first encountered in 1990 when he was a Fellow at the Neonatal intensive Care Unit at the UCLA Medical Center.  Professor Gadzinowski currently directs a highly respected neonatal intensive care unit at the Poznan University of Medical Sciences, and is internationally known for excellence in neonatal care and research.  He also edits and contributes to a number of European pediatric medical journals and has published a first Polish edition of a neonatal textbook.  Various research collaborations have resulted from this long term relationship.
Another research collaboration in existence since 1990 is between Professor Michael P. Sherman and Professor Ryszard Lauterbach MD, PhD.  Professor Lauterbach now leads the neonatal intensive care unit at Jagiellonian University Medical College in Krakow, Poland.  His research has received international acclaim.  Because of his exposure to neonatal medicine in the USA, Professor Lauterbach has changed pediatric care practices in Krakow, Poland and beyond.  His innovative advances in neonatology have improved care and reduced neonatal mortality.
Other conference participants at the 1986 Neonatal Symposium in Poznan included ProfessorJerzy Szczapa, MD, PhD, who most recently served for two terms as the President of the Polish Society of Neonatologists.  His son, Tomasz Szczapa, MD, PhD, helps educate Polish physicians about neonatal resuscitation.  This educational activity reduces neonatal brain injuries and cerebral palsy.  Moreover, Dr. Tomasz Szczapa and Professor Michael P. Sherman gave a presentation at the 2014 Pediatric Academic Societies meeting In Vancouver, British Columbia.  The research collaboration looked at the origins of necrotizing enterocolitis, a deadly bowel disease of premature infants.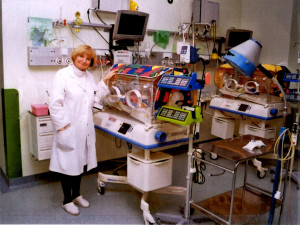 Also attending the 1986 conference was Maria Kornacka, MD, PhD.  Professor Kornacka is now the Director at the Neonatal Department at the Medical University of Warsaw, President of the Polish Neonatal Society and is chair of the CMCF Pediatric Selection Committee that recommends doctors for CMCF Fellowships.
Another CMCF fellow who trained under Professor Sherman at UCLA was Dr. Janusz Bursa, who has done important work on birth defects, infant morbidity, and mortality in the Upper Silesian Industrial Region of Poland as indices of ecological disaster.  At major academic centers throughout Poland, Professor Sherman has given lectures on "State of the Art" topics.
CMCF has funded Research Fellows from the following  medical institutions:
Institute of Mother and Child
University of Medical Science, Poznan
Historical Events
2011 –  Dr. Anna Raciborska, Institute of Mother and Child,  received a three year CMCF fellowship for research into Children's bone cancer  with Director Carlos Galindo, M.D. at Dana-Faber Cancer Institute as well as other institutions in the US.  She has become the leading expert in Poland in Pediatric Ewing Bone Carcinoma and provided lectures at symposium to oncologists from all over the nation.
2012 – Dr. Alexandra Adamczak, University of Medical Science, Poznan, received a fellowship to perform Public Health research.  This project, entitled "When you Smoke your Baby Smokes" was conducted in collaboration with Professor Alan Merritt at Loma Linda University School of Medicine to reduce smoking among pregnant women and new mothers.